If you've dreamed of having your home designed by Sarah Sherman Samuel, now's your chance! The prolific interior designer has introduced a new collection that's perfect for autumn with Lulu and Georgia. The Sarah Sherman Samuel Collection is full of warm, modern style, and includes furniture, rugs, and decor, as well as her first lighting and bedding.
"Like everything I design, there are so many personal pieces in this new line. I designed cabinet doors with my dad, drew inspiration from my Finnish background, and find inspiration in so many different places," said the designer. "It's so exciting to see my products come to life. Plus, I've wanted to design lighting and bedding for so long and it's finally here!"
Each piece of the collection is meticulously crafted, with nature often acting as the starting point for the designs. "As a whole, nature is always and forever the driving force of inspiration for my work," she shared. "From color palette to shapes and motifs, nothing inspires me more than the natural world."
There's lots of excitement around the bedding components of the Sarah Sherman Samuel Collection, and we can definitely understand why. "I wanted to create a collection with a good amount of variety in shapes and styles that are unique but also ultra cozy with subtle details to make them stand out. There are large quilted bed covers, scalloped edge pillow cases, ruffled edge shams, and even a skirted bedspread," she detailed.
"I wanted to use natural fibers that feel luxe, but still relaxed so we went with hemp," she said of the material selection. "I love hemp because it's super soft and gets softer with age, but is also incredibly durable. It's also very breathable and more absorbent than most fabrics, so it is thermoregulating, keeping you warm in cooler temperatures and cool when it's hot out."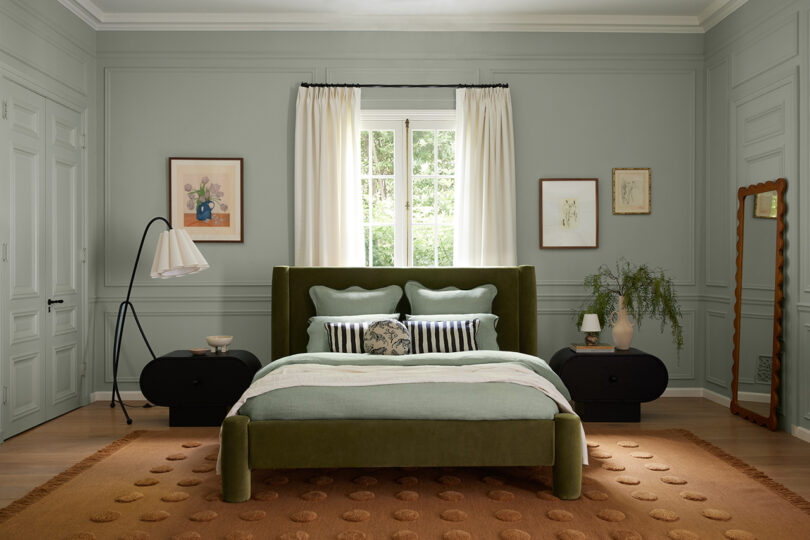 To learn more about the Sarah Sherman Samuels Collection for Lulu and Georgia, visit luluandgeorgia.com.
This post contains affiliate links, so if you make a purchase from an affiliate link, we earn a commission. Thanks for supporting Design Milk!